Dept of Trans Approved, Concrete Mix
Concrete Patch and Repair, DOT Approved, Size 65 lb, Practical Square Feet 6.6 @ 1 In., Flash Point Nonflammable, Noncombustable, Temp. Range 40 Degrees to 90 Degrees F, Traffic Hours 24 hr. @ 72 Degrees F, 30 min @ 72 Degrees F Setting Time, Adheres To Concrete, Use To Patch and Repair Concrete From 1 In. To Full Depth. Use Vertical and Overhead With Forms Or Pour into Prepared Horizontal Repairs., Dries to A Durable, Hard Finish, Color Gray, Yield Strength Exceeds 6000 psi
Артикул:
15F510
Каталог:
Grainger
Производитель:
FORMFLO
Номер модели:
GRA-401
Страна производства:
USA
Вес (кг):
31.34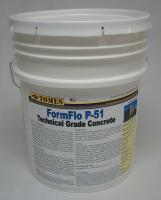 Спецификация:
Item: Concrete Patch and Repair
Type: DOT Approved
Size: 65 lb
Practical Square Feet: 6.6 @ 1"
Flash Point: Nonflammable, Noncombustable
Temp. Range: 40 Degrees to 90 Degrees F
Traffic Hours: 24 hr. @ 72 Degrees F
Setting Time: 30 min @ 72 Degrees F
Adheres To: Concrete
Application: Use To Patch and Repair Concrete From 1" To Full Depth. Use Vertical and Overhead With Forms Or Pour into Prepared Horizontal Repairs.
Characteristics: Dries to A Durable, Hard Finish
Color: Gray
Yield Strength: Exceeds 6000 psi
Includes: 65 Lb of P-51 High Performance Factory Blended Concrete.
Альтернативная продукция:

Concrete Patch and Repair, Mix, Size 50 lb, Practical Square Feet 12.5 @ 1/2 In., Flash Point Nonflammable, Noncombustable, Temp. Range 40 Degrees to 90 Degrees F, Traffic Hours 3-4 hr. @ 72 Degrees F, 20 min @ 72 Degrees F Setting Time, Adheres To Concrete, Wood, Plywood, Ceramic Tile, Use To Patch and Repair Concrete From Featheredge To 1.5 In. Thick. For Use in General Purpose and Structural Repairs., Dries to A Durable, Hard Finish, Color Gray, Yield Strength Exceeds 4500 psi