Laerdal Pocket Mask in Hard Case
Laerdal Pocket Mask, Material Plastic, Color Clear, Length 4-1/4 In., Width 1-7/8 In., Height 5-1/4 In., Weight 0.26 lb., Yes, Provides Helps Overcome Hesistation to Start Resusitation, Prevents Direct Contact with Victims Mouth, Nose, Face. Bi-Drectional Filter and Imprinted Graphic Directions for Use. Fits into Wallets, Pockets, Small Handbags and First Aid Kits. Latex-Free.
Артикул:
13W867
Каталог:
Grainger
Производитель:
LAERDAL
Номер модели:
42820011
Страна производства:
USA
Вес (кг):
0.12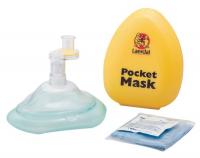 Спецификация:
Item: Laerdal Pocket Mask
Color: Clear
Disposable: Yes
Material: Plastic
Height: 5-1/4"
Width: 1-7/8"
Альтернативная продукция:

3UZV5
LM-200-02
CPR LIFE MASK
Resuscitator, Single Use Barrier, Material Latex-Free Plastic, Color Orange, Provides Complete Seal, Flexible in Extreme Temperatures, Clear Mask Dome Allows Visual Monitoring, Dome Folds into a Pocket-Sized Shell, Includes Oxygen Port and Head Strap So It Can Be Used as an Oxygen Mask